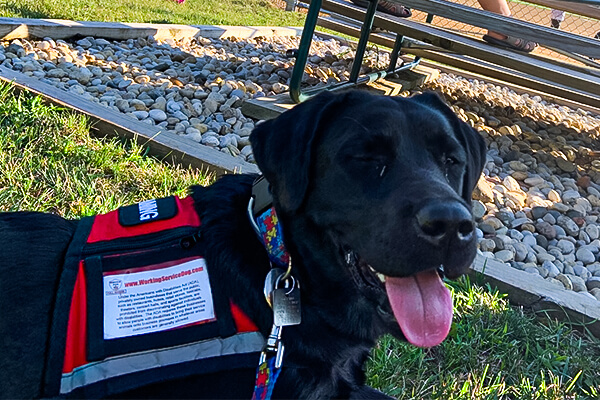 Meet Evie
Puppy Raiser: Jody S.

Hello!

My Name is Evie

My name is Evie. I am the fifth DogsInVests service dog trainee. I arrived in February 2020 with my sister Daisy. Being a part of the DogsInVests family has been so exciting and quite the journey already.

My puppy raiser is Jody. I love going to work with her and spending everyday together. Jody helps me learn everything. Like the other dogs, I started my basic puppy training with potty training and simple commands. Since then I have moved onto my adult beginner dog class and I regularly attend training classes at the DogsInVests facility with the other service dog trainees.

I passed my Canine Good Citizen test in April 2021. I'm really excited to start the next step of my service dog training. I get to begin weekly training and bonding sessions with my recipient soon. I can't wait to see what I will learn next.

I'm very excited for what this adventure holds for me. Although I'm still learning my way, I'm excited to make a difference in an individual's life someday as a certified service dog.
- Evie