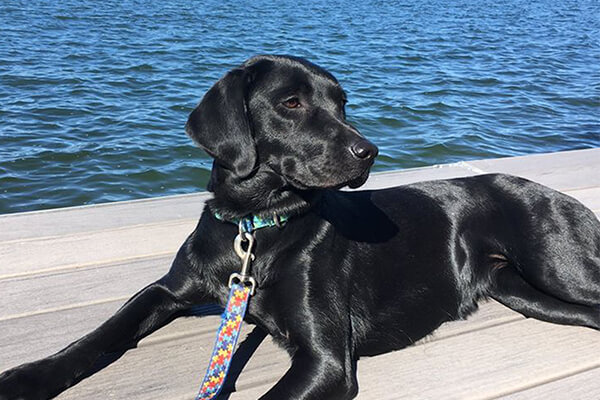 Meet Cleopatra
Puppy Raiser: Barb & Jim

Hello!

My Name is Cleopatra

My name is Cleopatra but you can call me Cleo. I am the third service dog in training at DogsInVests. I was born in August of 2019 but didn't become a member of DogsInVests until November. I'm a rescue from the Eau Claire, WI.

What makes me unique is that unlike Ace and Buddy who are American Bench Labradors, I am a field lab. This means I am more petite and much more spunky. Some of the staff say I love too much which I think is a good thing.

My puppy raisers are Barb and Jim. I adore them. We spend lots of time together working on my training. My training at DogsInVests started with basic puppy training. I learned a lot of basic commands such as leave it, stay and free. Moving along in my training, I have now completed my puppy training class and my Canine Good Citizen.

DogsInVests have been highly invested in my future and the best outcome for my training. After much consideration it was determined that I would do best with a high energy recipient. After forging a relationship with V.E.T Service Dogs NFP in Chicago, DogsInVests chose my new home. I was paired with Steve in April. Steve is a veteran and a physical therapist. He enjoys a very active lifestyle. I'm very excited for our life together. I will always be a part of the DogsInVests family and I am very excited for my new life with Steve.
- Cleopatra